CAUDRON C-561
Ref : FSC 021
ON STOCK
History :
Caudron C-461 and C-561 were built as French participants for the Coupe Deutsch de la Meurthe 1936.
The two aircraft C-461 derived on the C-460 using the same engine Renault 456.
The single C-561 followed the type C-560 installing the engine Renault 446.
The special design of these two types was the idea of a cockpit totally integrated in the fuselage.
The 1936 edition was won by a C-450 with Yves Lacombe piloting, though.
The C-461 came in on second place piloted by Maurice Arnoux.
The C-541 suffered from technical problems and its start to the 1937 race. This should never happen, as the 1936 race was the last event of the Deutsch de la Meurthe and also the end of the Caudron racer history.
THE KIT
Resin kit 1/72 scale
- Vacuum formed clear parts
- Set of decals
- Decals screen printed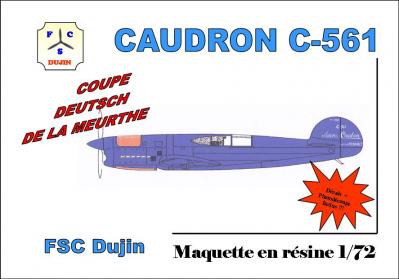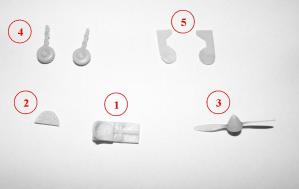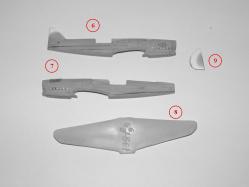 The construction manual can be viewed here
Plan de montage caudron 561 ok (1.25 Mo)
This kit is on stock at a price of 24€
Plesse do not hesitate to order quickly because of limited production volume
Order of JFR Team projects
Join the JFR Newsletter to keep you informed on a ailabilities and new kit releases.

Livre d'or
eric PEUTOT
On 12/01/2020
Bonjour à toutes l'équipe. Je viens de visionner les photos de l'expo 2019......quelle joie de voir ...
Dujin Laurent
On 16/10/2019
Bonjour à tous et grand merci de voir que les œuvres de mon père continuent à satisfaire à nombre de ...
Bethelseimer Thierry
On 23/04/2016
Je viens de recevoir 2 Caudrons c est superbe!! Enfin des modeles qui sortent de l'ordinaire et me redonne ...
Roger Gaborieau
On 13/01/2016
Superbe travail ! Des maquettes introuvables ailleurs et des modèles qui rendent hommage à des res ...
Merci pour le TB Cartouche Doré magnifique ! Une autre commande en vue pour avoir la patrouille complète ...
GUERRERO Stéphane
On 26/08/2015
Bonsoir à toute l'équipe JFR team! Je m'aperçois, alors que nous nous connaissons depuis un moment, et ...
Le Guen Dominique (crusader 83)
On 05/04/2015
bonjour apres reception du CAP232 , mes félicitations pour votre travail et pour la continuté de l'oeuvre ...
Michael Kalk
On 07/09/2014
Hallo wollte mal anfragen ob der Termin für eure nächste Veranstaltung (2015) schon bekannt ist,Unserer ...